At 6,000 square kilometres, the Kahuzi-Biega National Park is one of DR Congo's largest forests. But even here, every tree is precious...
The park is one of the last refuges of the eastern lowland gorilla, and deforestation remains one of the most critical threats facing the critically-endangered population found within its borders. Trees are chopped down not only for firewood, but also to build and even furnish their homes.
In almost all cases, the logging is carried out illegally, slowly but surely depriving gorillas of their natural habitat. But the Gorilla Organization's DR Congo Project Manager Henry Cirhuza has been fighting back.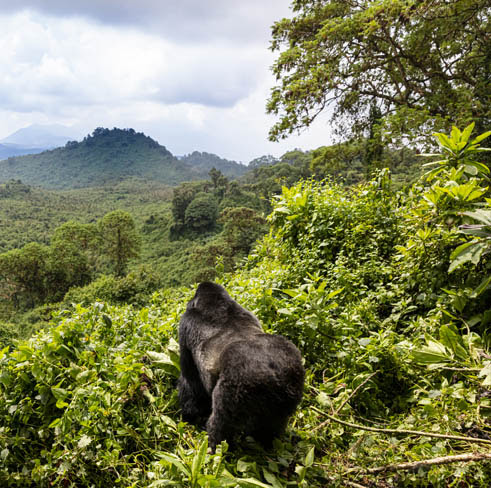 Under his leadership, the Kalehe Reforestation Project has been going from strength to strength. A network of 10 tree nurseries has been established, stretching more than 70km along the very edge of the park. In less than one year, Henry and his team planted more than 230,000 saplings. Perhaps more importantly, they have also planted the seeds of greater appreciation for the protected habitat and for sustainable forestry.
Henry says: "People now have a passion for growing trees and understand that they can produce their own trees for firewood, construction and furniture. Indeed, the sale of bean poles, honey and fruit means they have money for schooling and medical care. The tree has become a source of income for the local people, and their nurseries a source of pride."
The Kalehe Reforestation Project is now visible on Google Earth, and by reducing reliance on the Kahuzi-Biega National Park, its resident eastern lowland gorillas are being left in peace.
Thanks to our valued supporters whose generous donations have helped rebuild the gorilla habitat. You can support Henry and his team in planting even more trees by making a donation or by adopting a gorilla.