More rations means more and longer ranger patrols to keep gorillas safe from harm
The gorilla habitats that rangers patrol in the Democratic Republic of the Congo, Rwanda and Uganda are some of the toughest places in the world to operate. They are mountainous, wet and they're often very cold. That means rangers need as much nutrition as they can possibly take on board. They're like long-distance runners: the more fuel they have, the longer they can keep on going. Every extra step they take gives more protection to gorillas.
It's not that rangers don't have enough food rations for their current missions. It's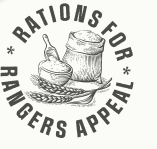 just that we all know there is so much more we could do – if only we had more. We know there are more gorillas out there. And they urgently need our protection.
It's simple. The more food rations we can provide for rangers, the more additional patrols we can carry out. The more patrols we carry out, the more gorillas we can protect. The more gorillas we protect, the more babies will be born, survive and thrive. That's how we'll save these wonderful creatures from extinction.

Simple stuff like dried fish, cassava porridge and beans are really high in calories and give rangers the stamina they need. They're light to carry so rangers aren't loaded down with unnecessary baggage. It's cheap too. But it isn't free. We have to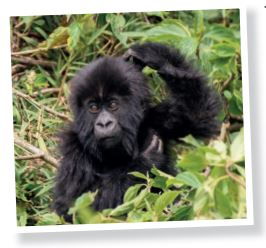 buy most of it at the markets in the bigger towns outside the forest and then transport it to camp. And the costs really add up quickly. Every ranger we send out needs two hot meals a day. And that means it takes a lot of money to keep them going. Money we depend on generous supporters like you to provide.
Each group carries their food with them into the forest, and cooks on camp fires in the morning and at night. Your donation could also help provide pots, pans and spoons. Rangers have to take everything with them on patrol – from spoons and bowls to eat with to pans to cook their food.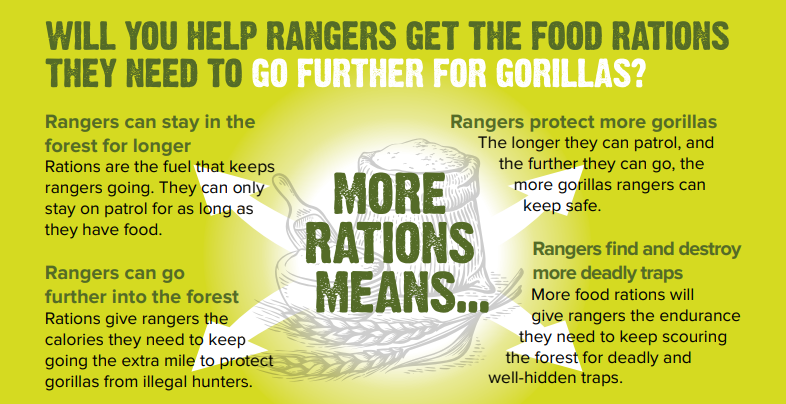 Every day, rangers make unimaginable sacrifices to save gorillas from extinction. And they're desperate to do more. But they can only do that if they have the food rations they need. The more rations they have, the further they can go to protect gorillas.
Without baby gorillas, there can be no hope for the future. If rangers can carry out more patrols, they can make sure more mother gorillas give birth successfully.
Will you help make sure they have the rations they need to do more?

Download the full Rations for Gorilla Rangers Appeal and please share!