The Ebola virus is spreading closer to the forest homes the gorillas. Now, more than ever we urgently need your support to keep them safe.
The deadly Ebola virus is spreading closer than ever to the forest homes the gorillas we protect depend on. Now, more than ever we urgently need your support to keep them safe.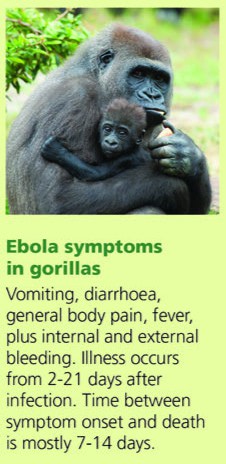 The Ebola virus is endemic in DR Congo. And it's spreading. Ebola can be catastrophic for humans, but it can be even worse for gorillas. It's been responsible for the death of one in every three gorillas since the 1990s. If gorillas fall ill, they don't know how to 'quarantine' themselves as humans would, so the virus spreads. And if a gorilla dies, the other members of its family will often continue to groom it, so Ebola spreads even faster and deeper into the forests.
There is no known vaccine for Ebola virus in gorillas. And it is almost always fatal. According to the World Health Organization, the mortality rate among humans is around one in two. In gorillas, it's close to 100 per cent. Worryingly, the virus is creeping steadily closer to the gorillas we've been working so long and so hard to protect. Every single poacher, miner, armed militiaman and even every local villager searching for food in the forest could pass on Ebola to the gorillas.If we can't keep the gorillas safe from Ebola, it really could be the end for them. That's why we need your help.
Taking Action 
Well-equipped teams of rangers can form a 'human shield' around the gorillas of Walikale, keeping the deadly disease away from them. We want to recruit 10 new rangers. These men could be the difference between life and death for the defenceless great apes. We also need to equip our rangers with special protective clothing and facemasks to protect them from Ebola and prevent them from spreading the disease in the forest. Finally, we need to ferry in supplies so that the rangers can stay in the heart of the forest where the gorillas need them for as long as they need them.
We've launched a new, urgent appeal for funds to help us keep the gorillas safe from Ebola. Your help is needed now more than ever. Our Executive Director Jillian Miller says: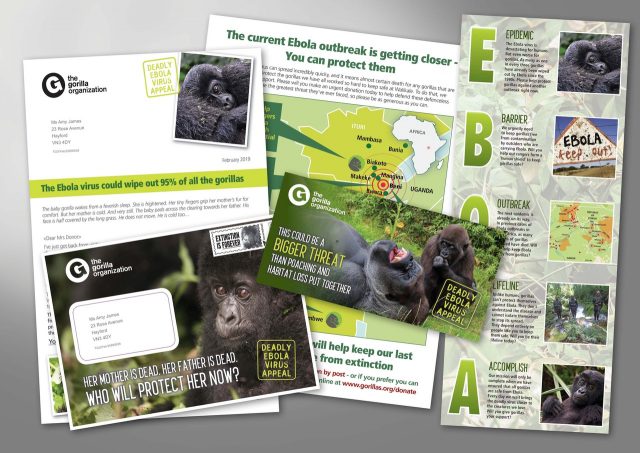 "Dian Fossey gave her life to protect our closest living relatives in the wild. Our rangers give their hearts and souls to keeping their 'brothers and sisters in the forest' alive. They'd make the ultimate sacrifice to keep gorillas safe – all I'm asking of you is a donation to support our vital work today. This really is a matter of life and death. If we can't stop the spread of Ebola, it could undo everything we've been struggling for since Dian died back in 1985. I'm sure you'll all agree that we simply cannot let that happen." 
How You Can Help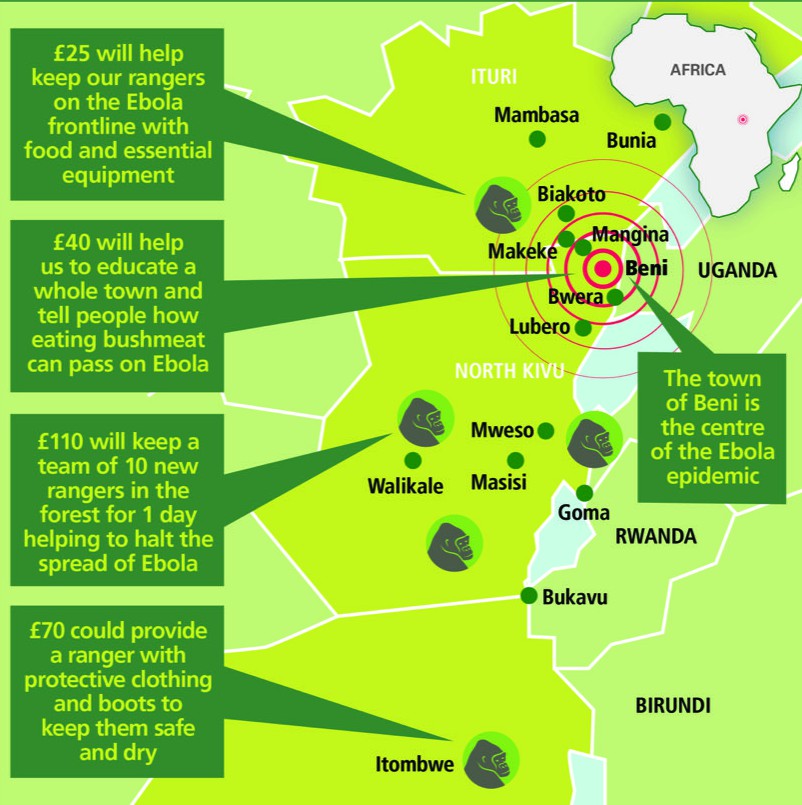 A single day of waiting could bring Ebola even closer. That's why we need your support so urgently today. Your gift could help:
Employ additional rangers to form a 'human shield', protecting the helpless gorillas from the deadly Ebola virus
Equip rangers with specialist equipment that will keep them safe and prevent Ebola from spreading further into the gorilla forests
Keep ranger teams supplied so that they can stay in the forests where they are needed the most
Donate today and help keep gorillas safe from Ebola. Every donation will help support the brave rangers shielding the gorillas from the deadly virus.